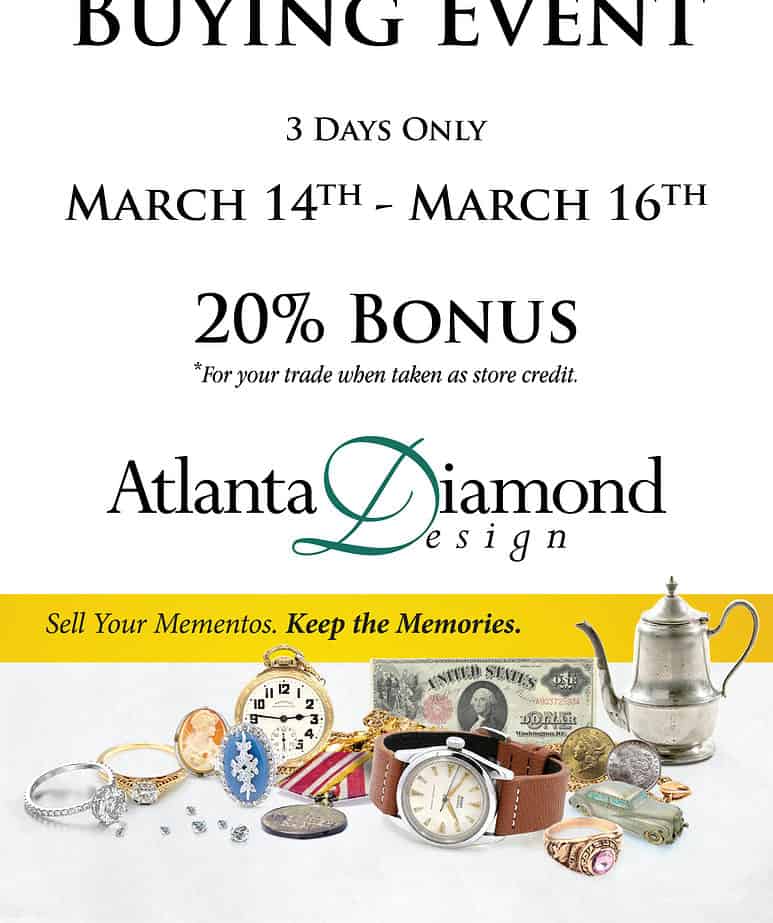 Do you have items gathering dust?
SELL THE FOLLOWING ITEMS FOR
IMMEDIATE CASH PAYMENT
FINE JEWELRY
Necklaces
Bracelets
Rings
Earrings
Designer Jewelry

DIAMONDS
Loose Diamonds
Mounted Diamonds
Damaged Stones

SCRAP GOLD & SILVER
Scrap Gold, Silver & Platinum
Old Mountings
Dental Gold

STERLING SILVER
Any type and all makers
No need to polish
We can help carry
Sterling Silver with Turquoise Jewelry

COINS & CURRENCY
Gold and Silver Coins
Bullion and Bars
Old Paper Money
Coin Collections

WATCHES (ANY CONDITION*)
Wrist Watches & Pocket Watches
Rolex, Breitling, Patek, Cartier, Elgin, Hamilton, etc.
Need Not Be in Working Order

FINE ART
Original Oil Paintings
Watercolor Paintings
Sculptures

RARITIES
Old Photos (tintypes, etc.)
Military Memorabilia
Autographs

TOYS & ADVERTISING
Pre-1960 Toys & Advertising
Tin & Lithograph Ads
Pressed Steel Trucks
We will match any competitor's offer!**
3 Days ONLY
March 14th – March 16th
3000 Old Alabama Rd, Suite 107
Johns Creek, GA 30022
(Located in Kroger Market at Haynes Bridge)
770.751.9555
10-6 Tuesday & Wednesday
10-5 Thursday
20% BONUS
*For your trade when taken as store credit.
National Rarities will provide a free evaluation, but is not obligated to purchase your items. *We are not an authorized Rolex dealer nor are we affiliated or endorsed by Rolex, Rolex USA, or any of its subidiaries. **Offer must be in writing and current. ***Some exclusions may apply. See store for details.