Customer Appreciation Punch Card
Atlanta Diamond Design is Celebrating 40 Years by Rewarding YOU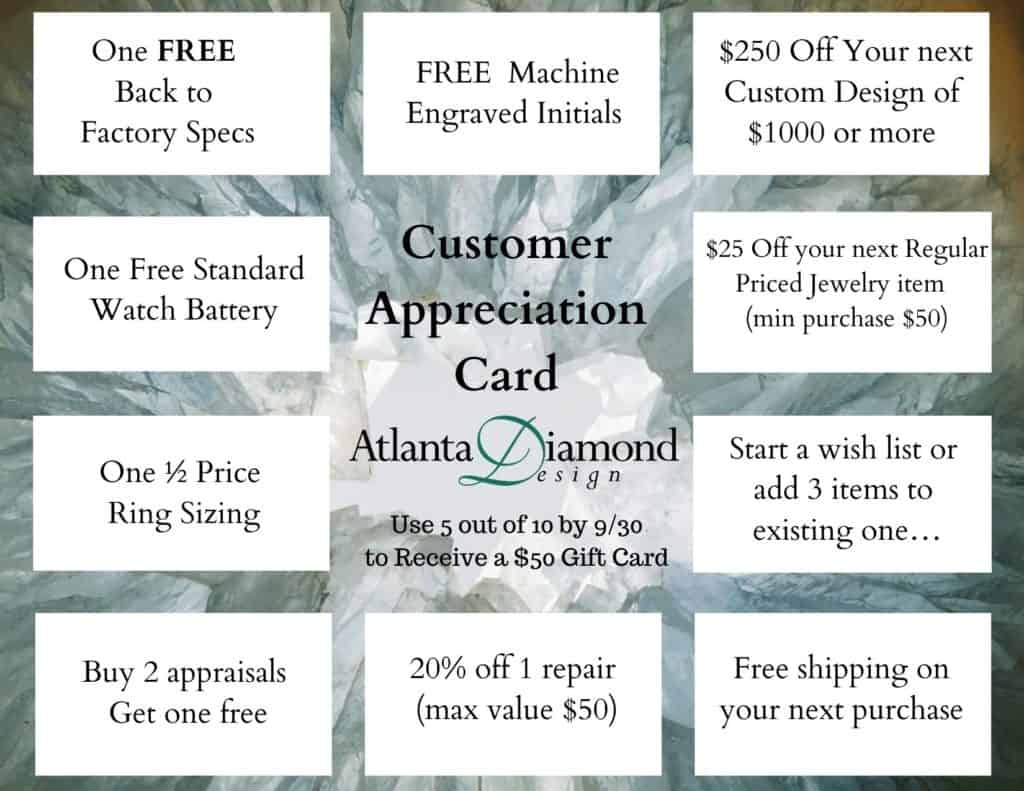 Through the end of September Atlanta Diamond Design is celebrating 40 years 🎉 with this Customer Appreciation Punch Card, including over $1000 in savings. Here are the 10 spectacular offers:
Rhodium Dipping / Redipping, Stone Tightening, and Polish
One FREE Back to Factory Specs (up to $150 value!)
Get your ring looking like the day you got it, including tightening all the stones, polishing out any surface scratches, rounding out the shank, and rhodium for white gold. Available for bracelets, necklaces, pendants, and earrings, too.
FREE Watch Battery
One FREE standard watch battery ($15 value!)
$25 OFF Retail
Get $25 off your next regular-priced reatail jewelry purchase of $50 or more
50% OFF Ring Sizing
Get half off any ring sizing!
The value of this could be in the hundreds, depending on your needs.
Come in for a free, no obligation quote.
FREE Jewelry / Watch Appraisal
Buy two jewelry or watch appraisals, get one FREE ($75 value!)
20% OFF Jewelry / Watch Repair
Get 20% OFF one jewelry or watch repair. Maximum value $50.
FREE Engraving
Bring or purchase a small metal object, such as a ring, pendant, knife, or spoon, and we'll machine engrave up to three initials onto the item at no charge.
$250 OFF Your Next Custom Jewelry Design of $1000+
Our most generous offer to date. This is the heart & soul of our business and we are second to none with our custom jewelry designs. Walk in or set an appointment with one of our designers for a no-obligation design session and receive a FREE quote for your project.
FREE Shipping
It doesn't get more convenient than being able to purchase locally and have us deal with mailing your gift to a distant loved one. Bring in a greeting card and we'll be happy to include it in the package. Or just call in your order and have it shipped to your home for a convenient, no hassle shopping experience. If you live far away, mail your repair to us (registered and insured) and when we're done we'll mail it back to you at no charge. Cannot be combined with other offers.
Start a Wish List or Add 3 Items to an Existing List
Make sure you get exactly what you want in the right size by creating a wish list at one of our stores. We will keep your wish list on hand so when your loved ones come to shop, they have a hassle free shopping experience and know they got you the perfect gift.
Plus, get a take advantage of 5 out of these 10 spectacular offers, and get a FREE $50 GIFT CARD to use anytime.
Enjoy, and thanks for your support, we couldn't do it without YOU.